3d car wheel alignment machine 4 wheel aligner

Specification
Measurement:
1. Toe/Camber/ Caster/S.A.I (or KPI)
2. Thrust Angle/Chassis wheelbase/wheel track/Rolling Radius/Set-Back
| | | |
| --- | --- | --- |
| Measure Items | Measurement Accuracy Range | Measurement Range |
| Display Precision | 0.1mm/0.01° | - |
| Toe | ±0.01° | ±40° |
| Camber | ±0.01° | ±45° |
| Caster | ±0.02° | ±45° |
| S.A.I | ±0.02° | ±45° |
| Set Back | ±0.01° | ±40° |
| Thrust Angle | ±0.01° | ±40° |
| Steering Angle | ±0.02° | ±50° |
| Track Width | ±2mm | 1219mm-2438mm |
| Wheelbase | ±2mm | 2006mm-4572mm |
Product's feature

3D measurement technology ---which based on car body, more precision and stable.
Camera measurement system ---using two camera and work together with four target disk which is a revolutionary measurement method.
Target disk ---there isn't electronic components inner and instead of traditional electronil sensor. It can more efficiently to eliminate the equipment error which caused by circuit.

Calibration ---Only need once RCP calibration after installation, process simple and repeated calibration is unnecessary.

Software system ---Simple operation, measurement can be finished in 2 minutes.
Product Detail

1) High definition camera
The Sony dedicated industrial camera with 12 million pixels at 60 frames per second can read all the basic data of the four-wheel positioning of the cart within 5 seconds.
2) Movable Camera Beam
The movable beam along with the automatic tracking system makes a autotracking beam which will automatically adjust it's height according to the height of the targets. This enables the technicians doing alignment in a comfortable position and changing the height whenever he want.
3) Clamps
Fast installation, suitable for all rims between 12"-23"
4) Target plate
Apply high strength plastic target,Aluminum alloy, waterproof, anti-corrosion, high temperature prevention, high reflective material, sharper image.
5) Movable cabinet
Luxurious cabinet with movable rollers for easy operation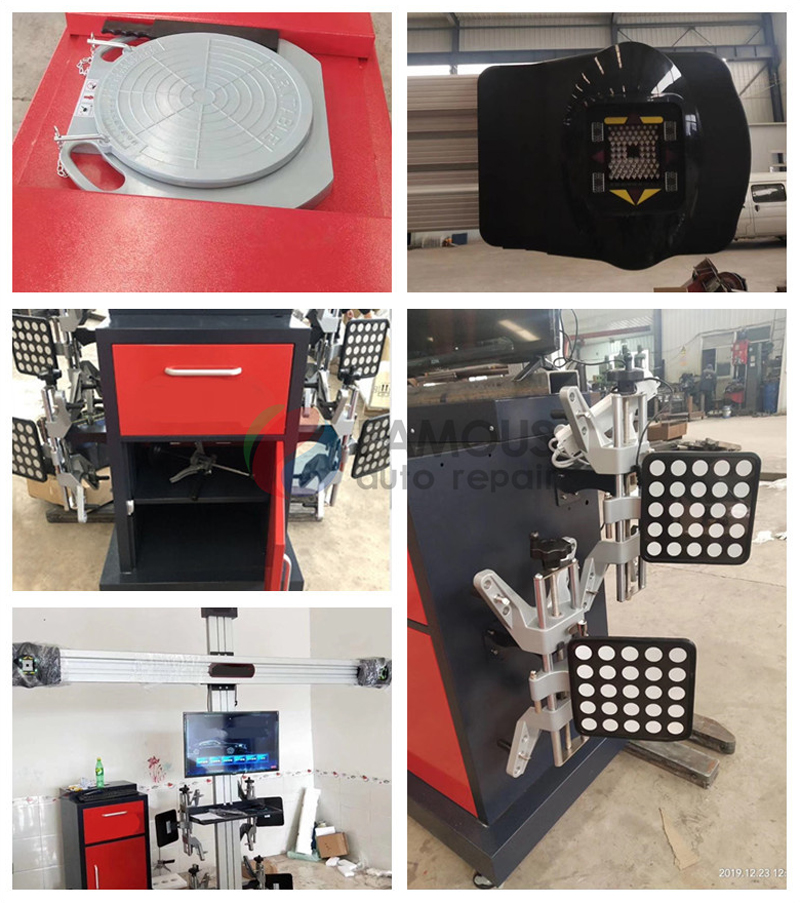 Accessory

Standard Configuration
| | |
| --- | --- |
| Computer host | 1 Set |
| Displayer | 32-inch and 22-inch |
| Camera | 1 Set/2pcs |
| Pillar | 1 Set, auto lifting |
| Cabinet | 1 Set, movable |
| Camera Beam | 1 Set |
| Tablet PC | 1 set 10" |
| Clamp/Target | 1 Set/4pcs |
| Turntable | 1 Set/2pcs |
| Hanger | 1 Set/4pcs |
| Mouse/Keyboard | 1 Set |
| Eccentric screw and ground pin | 1 Set |
| Transitional Block | 1 Set/2pcs |
| Steering Wheel & Brake Lock | 1 Set |
| Wedge-shaped Pad | 1 Set/2pcs |
| Printer | Optional |

Packing & Delivery
Three packages of the 3d wheel aligner
2800 mm*300 mm*300 mm
2500 mm*300 mm*300 mm
1000 mm*850 mm*850 mm


Customers Feedback

FAQ
1) Warranty Policy and Terms.
-The machine warranty is one year(except man-made damage). and if there is any question about the machine or software, we can offer help by mail, phone call, or online tools like skype, whatsapp etc.

2)Do we need to calibrate for the machine?
-The machine only need one calibration and it finished calibration before leaving the factory, because no periodic calibration needed, you don't need to calibrate again.

3)How do I get help when I have problems with the aligner?
-Online and/or offline help would be offered to work out and solve your problem